Diese Veranstaltung hat bereits stattgefunden.
ISPE Emerging Leaders – ATMP Online Seminar Series – Vol II.
Oktober 25, 2022 @ 5:30 pm

-

7:30 pm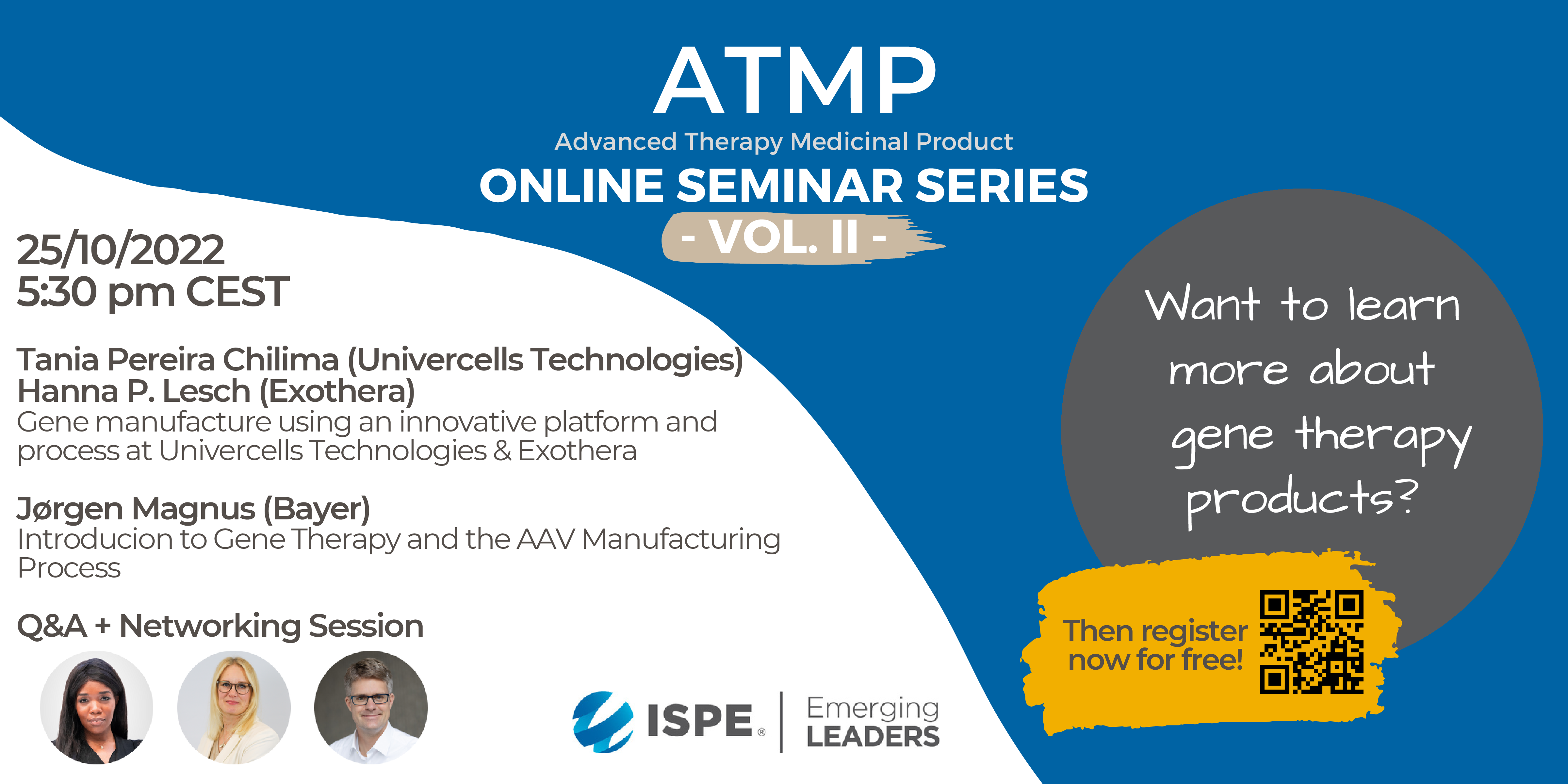 Manufacturing processes for gene therapy products
The ISPE Emerging Leaders invite you to join our online seminar series 2022. In multiple volumes, you will learn about ATMP related topics. We will cover the basics of cell and gene therapy and tissue engineering, new manufacturing processes and the implications of these novel products on engineering and regulatory aspects.
This event is a joint initiative of the ISPE Emerging Leaders groups of the D/A/CH and Belgium affiliate.
For more information on the upcoming sessions, subscribe to our newsletter by checking the box in the registration form or follow us on LinkedIn.
Program – Vol II. – 25.10.2022
| | | |
| --- | --- | --- |
| Time | Presenter | Topic |
| 17:30 – 17:40 | ISPE Emerging Leaders | Welcome by the moderators and introduction to ISPE Emerging Leaders and the seminar series |
| 17:40 – 18:10 | Jørgen Magnus | Introduction to Gene Therapy and the AAV Manufacturing Process |
| 18:10 – 18:40 | Tania D. Pereira Chilima (Univercells Technologies) and Hanna P. Lesch (Exothera) | Gene manufacture using an innovative platform and process at Univercells Technologies & Exothera |
| 18:40 – 19:30 | All | Open Q&A with possibility to network with other participants |
More information about the speakers:
Jørgen Magnus
Strategic Program Lead – Cell and Gene Therapy , Bayer AG
Jørgen holds a Master of Chemical Engineering degree from the University of Manchester, Institute of Science and Technology and a PhD in Biochemical Engineering from the University of Stuttgart. He worked for NNE Pharmaplan with the design and construction of pharmaceutical production facilities. Since 2009 he has been with Bayer in various positions related to production technology and facilities. After five years as the head of the group for Bioprocess Technology, he is currently part of Bayer's Cell and Gene Therapy unit as a strategic program manager. Jorgen's interests include cell culture fermentation, continuous processing of monoclonal antibodies, production technologies for cell and gene therapy and design of biopharmaceutical production facilities.
Tania D. Pereira Chilima
Chief Technology Officer, Univercells Technologies
Tania D. Pereira Chilima is the Chief Technology Officer at Univercells Technologies where she focuses on driving innovation to execute our mission of delivering the next evolution of biomanufacturing. She also oversees the direction of the technology portfolio and is responsible for continuously identifying new technologies that could complement our portfolio as well as the application of our systems to new modalities.
Prior to this role, she was Product Manager for the NevoLine™ platform at Univercells, and previously worked as a post-doctorate researcher for the ULTRA grant sponsored by the Bill and Melinda Gates foundation, focused on designing manufacturing strategies for ultra-low-cost vaccine manufacture.
Tania holds an engineering doctorate from the University College London in partnership with Pall Life Sciences entitled, Decisional Tools for Enabling Successful Manufacture and Commercialization of Cell Therapy Products, and is a frequent contributor to industry publications and journals.
——
Hanna P. Lesch
Chief Technology Officer, Exothera
Hanna has made her whole career in the gene therapy field. Over the years she has been in several directors' positions leading research and development at FKD Therapies, Finvector, and Kuopio Center for Gene and Cell Therapy. Her research interest has focused on gene therapy and translational development, including early-stage analyticals and the development of scalable, robust manufacturing processes operating under current regulatory guidelines. Her Ph.D. was in Molecular Medicine, obtained from the University of Kuopio. She followed up her Ph.D. with post-doc work at the University of California San Diego UCSD, CA, the USA, and the University of Eastern Finland, Kuopio, Finland. She has several patents related to vector manufacturing.