Winning Team: Robert Kibele (Groninger & Co. GmbH), Matthias Mettmann (Groninger & Co. GmbH), Sebastian Hillbrand (SKAN AG), Thorsten Häfner (PSM GmbH), Jury Lead: Charly Coulon (INVITE GmbH)
"The winner of the first ISPE D/A/CH – Germany, Austria, Switzerland 2022 Robotic Award 
 is groninger & co. gmbh , SKAN AG and PSM GmbH for the RoboCell.
Why did we choose this winner?
The jury was deeply impressed by the combination of efficiency gains through the robot and avoidance of manual handling in the sterile production environment
The robot takes over tasks such as
format change at the push of a button, automated installation of sterile parts
completely avoids handling, maintenance or changing of gloves
and makes it possible to reduce the size of the sterile area and thus shorten decontamination cycles
In addition, it was shown and implemented for the first time that it is possible to ensure that ony first-air comes into contact with the product by means of optimized airflow.
Further finalists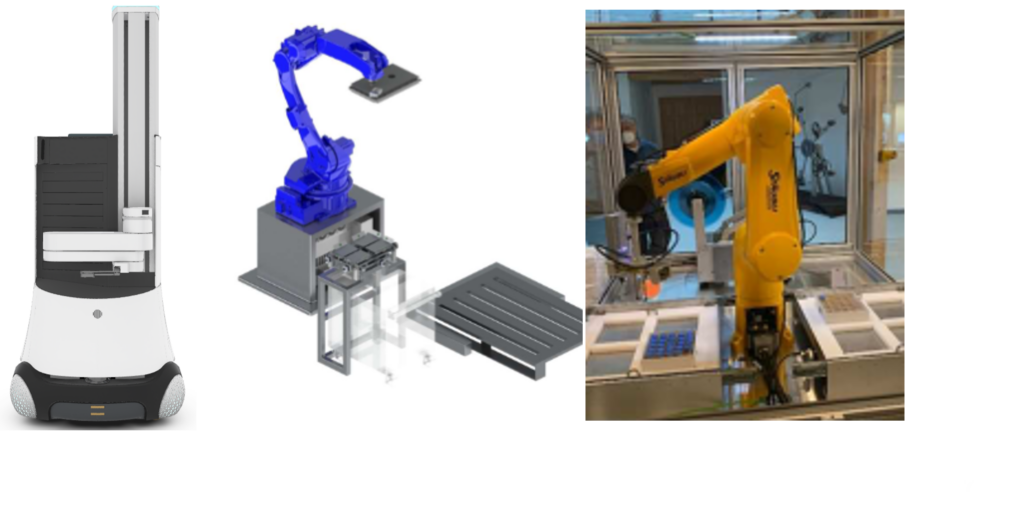 Kevin – mobile machine tending lab cobot 
Forwards and Backwards romleft to right and up nd down – this mobile cobot supports valuable qualified staff by handling and delivering standardized sample plates in between equipment  – All day long without human Interaction!
"Automatic vial infeed with Akylux boxes" proposed by Dominik Duda from Takeda.
This genious combination of flexible robotics with Akylux boxes allows easy automation as well as compliance with pharmaceutical requirements.
The result is a high speed, small footprint, easy to copy and deploy solution with a viable business case.
"-20°C handling and labeling robot" proposed by Markus Stübchen from Roche.
Frozen – no longer – This clever automation solution addresses a real pain point and helps with a repetitive barely value adding task – Labeling and handling under -20 C substitution